The advanced search allows the user to modify the search parameters that are proposed by default. It is composed of different sections.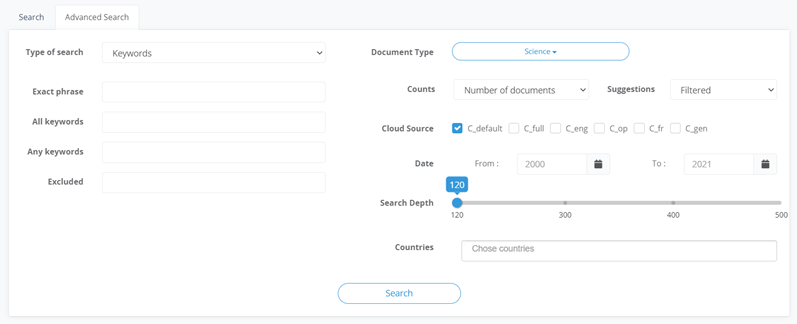 The left side of the advanced search allows you to select the type of search (keywords, search by name).
The fields below allow you to build a query composed of several keywords.
The "exact phrase" field means that the platform will search for keywords in documents in the form of a single character string, i.e. the keywords in a grouped way.
The "All keywords" field is equivalent to the use of an AND.
The "Any keywords" field is equivalent to the use of an OR.
The excluded field allows to eliminate from the results the documents containing the keyword.
By playing with the fields and switching from Advanced search to search. The user can learn to use the tag feature in the simple search.
Example :
The user enters "magnetic gear" keywords in the "All keywords" field of the advanced search.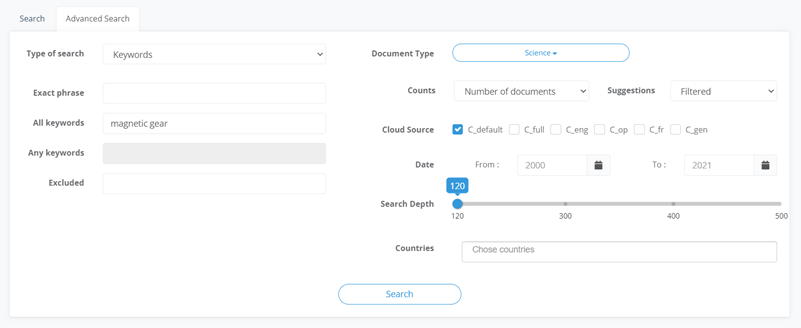 Then he goes to the Search tab and the query is automatically completed with the tag way.

The right side of the advanced search allows to modify the default search parameters and to refine your query.
The document type is used to select the type of results required (scientific publications, patents or company).
Cloud source allows to select the sources in which the platform will look for the documents (by default is a compilation of all sources).
The search depth determines the number of best documents returned by the platform. The greater the depth, the longer the search time.
Finally, the date and the countries fields allows to define a time period and/or a geographic area.